Located in the city's north end, this 890-hectare park provides nature lovers with forested and aquatic habitats to explore year-round. While visiting the city's parks and trails, don't forget to #ShareTheTrail!
As one of the largest urban parks in Canada, Irishtown introduces visitors to a diverse ecosystem that features Acadian forests, varied terrain, marshlands and a lake. Separate trail systems allow individuals of all ability levels to enjoy the park by walking, hiking and cycling. Irishtown is popular with birders and wildlife enthusiasts, as well as with school and community groups. History buffs will enjoy visiting the Tankville School – a refurbished one-room schoolhouse that features a main-floor museum and community gathering space.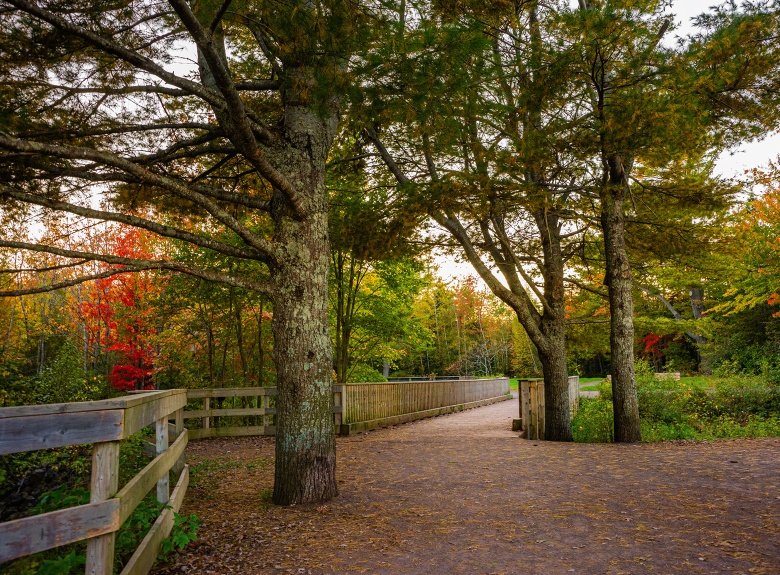 NATURE TRAILS
Strollers and wheelchairs can easily access the surfaced trails, while the footpaths are more challenging.
Surfaced Trails (4.7 km): Gravel surfaces are suitable for walking, running and biking. Trails are cleared in winter.
The Footpaths (6.9 km): Natural trails of varied terrain that are suitable for hiking in summer and snowshoeing in winter.
Canoe Launch

Non-Motorized Boating

Washrooms
Boaters can take non-motorized boats on the Lake. The season begins after the spring thaw and continues to late fall. Boaters must register to receive a combination code that unlocks the boat launch gates. One gate is located near the main Elmwood Drive parking lot, the other is at the Canoe Trail off Caledonia Road (see map).
Register online to receive combination code.

The code changes on the first Monday of every month and you will be emailed new code information.

You will be emailed if the lake is closed due to water quality.
Boating Instructions:
Drop your boat off at the water and then park your vehicle in the parking lot.

The gate MUST be locked at all times, be sure to lock it after entering and leaving.

Do not share the combination codes.

Boat at your own risk. Use extreme caution if water levels are high.
Thank you for your cooperation and happy boating!
The City of Moncton's green space infrastructure comprises of parks, trails systems and green spaces, of which Irishtown is identified as a nature park.
The City defines a nature park within its municipal boundaries as an area of land and/or water permanently set-aside for the conservation of biological diversity. This nature park is dedicated to an enjoyable user experience but also to the protection of the habitat and the diversity of life within their boundaries. It is important to remember that the natural environment is home to a wide array of wildlife and plants that rely on natural areas for nutrients, protection, and shelter. The protection of these areas is a priority for the City.
No hunting, trapping, fishing, or harvesting of any plants or wildlife is permitted within Irishtown Nature Park. Alcohol, tobacco, and drugs are prohibited.