Wild Lights - Year of the Wolf
The Zoo is decked out in hundreds of thousands of holiday lights throughout its 40-acre park. This year, the spotlight is on wolves! Bring the whole family to see our new wolf-themed lights and to learn about these marvelous mammals this holiday season!
Administration and Admissions
506.877.7720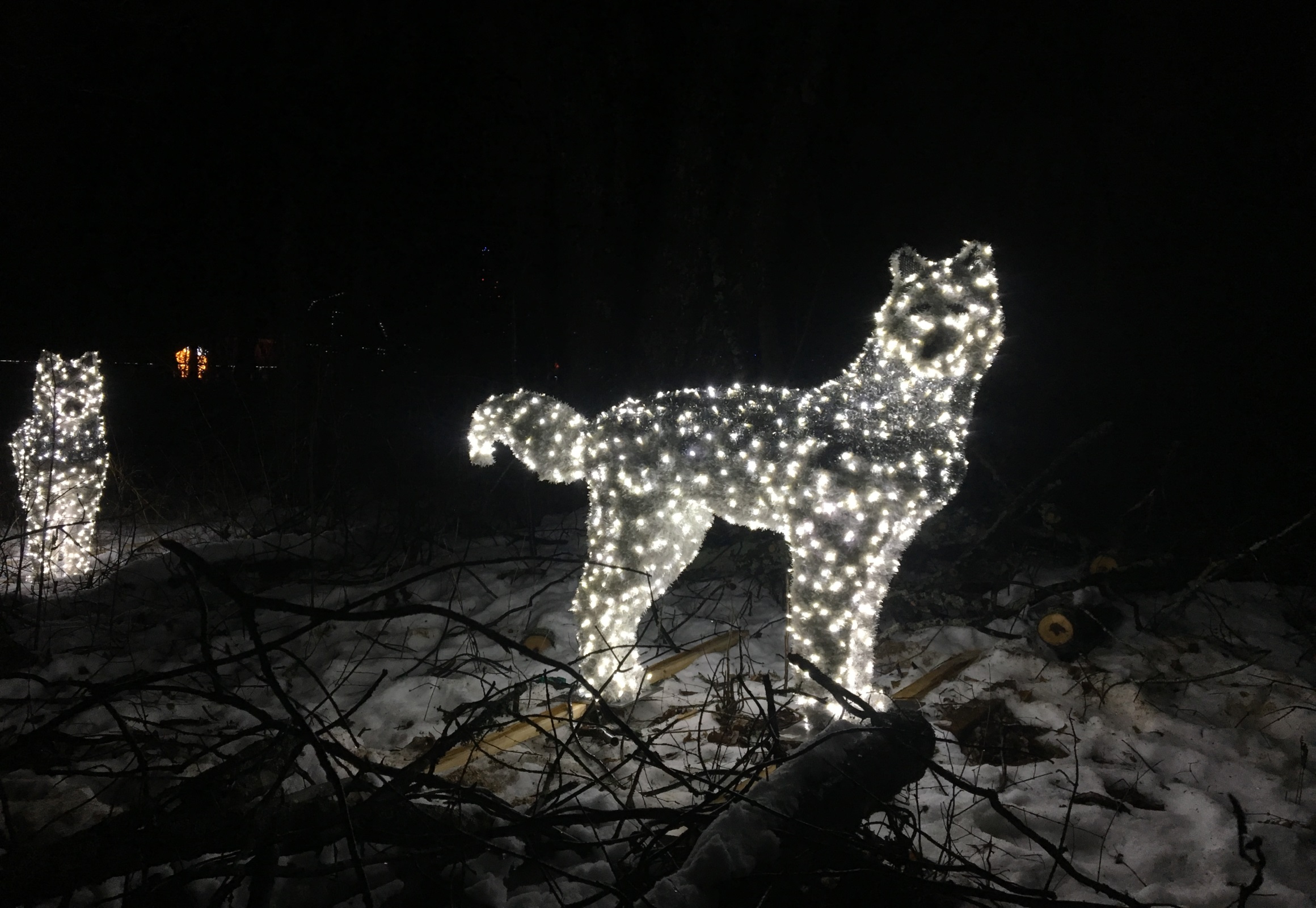 View hundreds of thousands of holiday lights throughout the Zoo, including new wolf themed lights

Learn about the plight of wolves at our public education kiosk

Make a donation to help us raise funds for wolf research in Canada

Visit the zoo animals in the Ecodome and the Imaginarium

Warm up at an outdoor bonfire (weather permitting)

Enjoy snacks and hot chocolate (additional cost)
Dates: December 1 to January 4 (closed December 24 & 25)
Special dates:
December 2 and 5 - Food Depot Alimentaire and Isthmus Moncton Night
   - Donate a non-perishable food item and receive $2 off admission.
December 3, 10, 17, 31 - Tuesday family night
   - Receive $6 off admission for a family of four*
December 4, 11, 18, January 1 - Wednesday half price seniors night
   - Receive $5 off admission for all seniors
Hours:
The holiday lights are on from 5 to 8:30 pm. (8 pm on December 31st)

The gift shop is open from 4 to 8:30 pm.
Admission:
Ages 13-59
Ages 4-12
Ages 0-3
Ages 60 and over
*Family of four
$10
$5
Free

$10
($5 on Wednesdays: Dec. 4, 11, 18, Jan. 1)

$28
($22 on Tuesdays: Dec. 3, 10 17, 31)
*Family of four = 2 people 13-59 years and 2 children 4-12 years
Complimentary tickets are accepted
Group rates are also available. Reservations must be made within 48 hours notice.
For last minute event changes or possible cancellations, visit our Facebook page: facebook.com/zoodemagnetichillzoo
Please note that visitors are not permitted to bring their dogs into the Wild Lights special event/fundraiser. Service dogs, with current vaccinations and a rabies tag visibly displayed on their collar are permitted in the Zoo.
All funds raised via the sale of wolf themed merchandise and cash donations will go towards two canine conservation projects at the Université de Québec in Rimouski and Dalhousie University. For more information please visit, moncton.ca/yearofthewolf