Great public urban spaces build community; these places fit into the urban fabric, contribute to the neighbourhood's beautification, provide beneficial green space, create a destination, and enhance the vitality of downtown public life. While visiting the city's parks and trails, don't forget to #ShareTheTrail!
Parks and Leisure
506.853.3333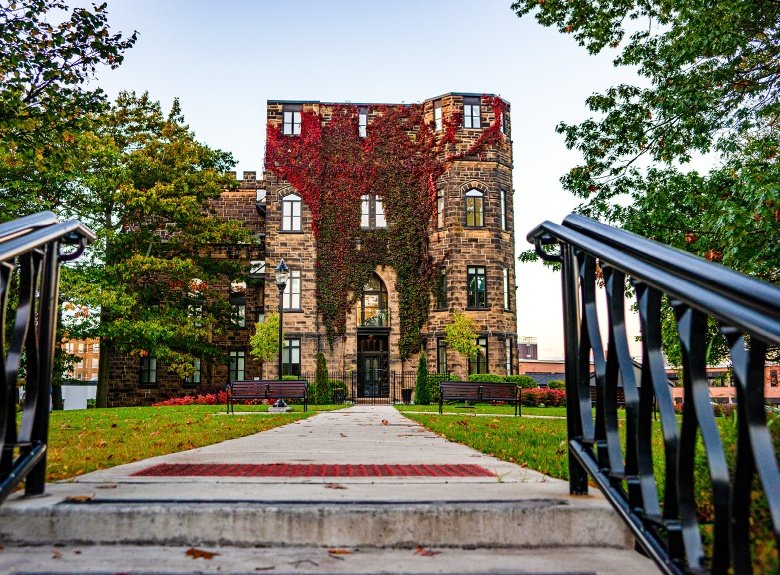 René-Arthur Fréchet (1878 - 1950)
René-Arthur Fréchet obtained his architecture degree at Laval University in 1898. While employed as an architect with the Intercolonial Railway, he was transferred to Moncton in 1900.  His aspirations grew and in 1905, he opened his own architecture firm with a specialty in religious and domestic architecture.
Fréchet's architectural influence in Moncton and beyond was impressive, with many of his designs still surviving to this day: 
Provincial Bank of Canada Building – édifice de la Banque provinciale, 1910 (696-698 Main)
Théâtre Capitol Theatre, 1926 (811 Main)
St. Bernard's Rectory, 1915 (77 Queen)
Hôtel Dieu, 1928 (35 Providence)
édifice des religieuses du Bon-Pasteur - Home of the Good Shepherd, 1948 (18 Antonine-Maillet)
Maison Peters House, 1905 (35 Highfield)
École Essex School (27 Essex)
Beyond Moncton, René-Arthur's designs spanned the entire Province of New Brunswick. In Nova Scotia, his religious architecture includes the Memorial Church at the Grand-Pré National Historic Site. In 1929, he was named vice-president of the Royal Institute of Architecture and the first president of the Maritime Association of Architects.
Despite having been born in Québec, he would contribute to Acadian culture not only through his countless church designs, but also in his personal activities. In 1903, René-Arthur married Elvina Cormier of Cocagne, New Brunswick. His leadership with respect to L'Évangéline newspaper resulted in a revitalization of the periodical in the 1920s.  His commitment to the Acadian cause was also apparent in his membership in la Société Nationale l'Assomption.
His sense of civic duty was not limited to Acadian culture, however. He served as a city alderman in the 1920s, as well as Deputy mayor for part of that time. During the First World War, he was a recruiting officer and was discharged with the rank of Captain. He was involved with the Eastern Air Command in Halifax as a civilian during the Second World War.