Moncton Sports Wall of Fame
The Moncton Sports Wall of Fame pays tribute to the builders of the City's sports heritage.
The Moncton Sports Wall of Fame recognizes individuals who have helped to advance Moncton's sporting community. Inductees represent sportsmanship and commitment to athletics. They include the builders, coaches, officials, teams, and athletes responsible for creating the city's active sporting community. A monument honouring recipients sits inside the Avenir Centre.  Nominations are accepted year-round with a deadline of June 15th for them to be considered for the current calendar year.
Board members
Euclide Gautreau
Krista Richard 
Randy Roth (Chair)
Dwayne Tingley
Judy Vautour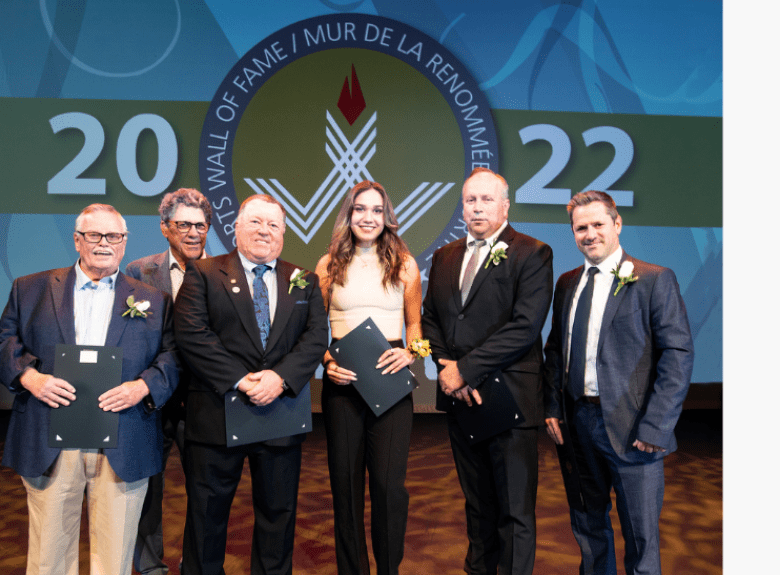 2022 Moncton Sports Wall of Fame inductees
Left to right: Dave Anderson: representing the Keefe Cubs Junior Baseball Team, Randy Canning: Builder — Lacrosse, Brian Gaudet: Builder — Football and wrestling, Courtney Sarault: Athlete — Short track speed skating, John DeCourcey: coach, representing the Rallye Motors U18 AAA Nissan Flyers, Derek Cormier: Athlete — Hockey
Courtney Sarault
Athlete — Short Track Speed Skating
Courtney Sarault's accomplishments in short track speed skating are legendary in New Brunswick. She represented the province at the Canada Games in 2015 at age 14 and, while still of junior age, began competing at the senior level, capturing her first World Cup medal going head-to-head against former Olympians. She continues to hold the provincial records at all distances and is a Canadian record holder in the 1000m.
She became the first Canadian woman outside of Quebec to become Vice-World Champion at the senior level and the first woman from New Brunswick – and only the 10th skater in the country outside of Quebec – to be named to the Canadian Olympic short track team. In her Olympic debut at the 2022 Olympics in Beijing, Courtney assisted her teammates to two team finals. The 2021 recipient of the Nathalie Lambert Award for Short Track Female Athlete of the Year, she maintains contact with her old club, the Codiac Cyclones in Dieppe, and continues to encourage young Maritime speed skaters to dream big. She is an outstanding ambassador for Moncton and New Brunswick on the world stage. 
Derek Cormier
Athlete – Hockey
Derek Cormier was a standout on every team of which he was a part. As a member of the Moncton Beavers, he led the Maritime Junior A Hockey League in scoring and was the Canadian Junior Hockey League's Tier II Junior A Player of the Year. He was named the USports (AUS) Rookie of the Year in 1993¬–1994 in his first year with the University of New Brunswick Varsity Reds. After playing a season as a member of the Canadian National Hockey Team, Derek went on to a successful 18-year professional career in Europe. In particular he played 11 seasons with Switzerland's Hockey Club Sierre, serving as team captain for six years and leaving as the top scorer in the club's history with 356 goals and 539 assists in 550 games. Since his retirement from professional hockey in 2015, Derek has set his sights on developing a new generation of players. He has coached the Dieppe Flyers and is head coach of l'Université de Moncton's Aigles Bleus as well as the president of East Coast Ice and Pro Evolution Hockey, a specialized program to develop young hockey players. 
Randy Canning
Builder – Lacrosse
Randy Canning has been instrumental in introducing and developing the sport of lacrosse in the Greater Moncton area. In the early years of Codiac Storm Lacrosse, founded in 2002, Randy would often be on the floor from 5 p.m. to midnight coaching all age groups, refereeing, helping out with equipment — doing whatever needed to get done to support the league. Randy was active in trying to grow the game in the Greater Moncton area, visiting schools, tennis courts, and ball and football fields to encourage children to get involved. He always arrived with plenty of lacrosse gear in tow to ensure no child who wanted to try the sport would be left out. Later, Randy helped get the region's high school lacrosse league off the ground. He was also dedicated to supporting a New Brunswick-based junior lacrosse team that was part of Nova Scotia's East Coast Junior Lacrosse League. There was nothing Randy would not do to grow the game of lacrosse. His dedication has ensured that thousands of children in the community were introduced to the sport and had the opportunity and the means to take part.
Brian Gaudet
Builder – Football and Wrestling
Brian Gaudet's many contributions to sport have been guided by the principles of commitment, integrity, and determination. A distinguished athlete himself, Brian has spent much of his adult life inspiring and supporting young athletes. He has made an immense contribution to the development and promotion of minor and high school sports, including 25 years in wrestling and more than 35 in football. He served as head wrestling coach at several local high schools, coaching athletes to success at the provincial and national level. He was also a well-respected and active official with Wrestling Canada Lutte (formerly the Canadian Amateur Wrestling Association), officiating at 38 national championships at the junior, senior, and university levels. One of his greatest contributions to sport came through his nearly two decades of work as a doping control officer with the Canadian Centre for Ethics in Sport. Brian worked in this capacity at the international level, serving at the 2010 Olympic Games in Vancouver, BC, as well as at several world championships for various sports. Brian has demonstrated a lifelong commitment and passion to helping athletes develop to their full potential. His mentorship and commitment to excellence inspired athletes to success both in sport and in other aspects of their lives.
Moncton Keefe Cubs Junior Baseball Team 1968-1971
Team – Baseball
The Moncton Keefe Cubs Junior Baseball Team won four consecutive provincial championships between 1968 and 1971 and three consecutive Maritime championships from 1968 to 1970. The Cubs became the first Moncton junior baseball team to medal at a national championship, placing third at the 1970 National Junior Championships – a feat that remained unmatched until 2018. It remains the only Moncton team to win three consecutive Maritime junior titles. This exceptional group of young athletes dominated junior baseball in the Maritimes during their time together and inspired young baseball players across the region.

The team included: Dave Anderson, Ron Anderson, Alan Beaton, Chuck Boudreau, Eugene Foggy Boudreau (coach), Emery Bourque, Brian Brace, Doug Chapman, Gerry Cormier, Fred Cripps (manager), Robert Doucet, Mike Dupuis, Paul Gauthier, Bob Haley, Lee Huntington, Leo Paul Johnston, Bob LeBlanc, Charlie LeBlanc, Mike LeBlanc, Bill MacBeath, Roland McDonald, Joe MacLaughlin, Mike MaGee, John Melanson, Ozzie Melanson (assistant coach), Brennan O'Brien, Pete Pineau, Al Power, Gary Richard, Ian Russell, Murray Sears, Tom Smyth, Nevin Tower, Dale Turner, Fred Veniot, David Wedge, and Bob Wood.
 
U18 AAA Moncton Rallye Motors Nissan Flyers 2021-2022
Team – Hockey
The Moncton Rallye Motors Nissan Flyers were the first U18 hockey team from New Brunswick – and only the second from Atlantic Canada – to win the TELUS Cup, Canada's National U18 Club Championship. The Flyers had a standout season, first winning the 2021-2022 NBPEI Major U18 Hockey League regular season, with six of the top 10 scorers in the league hailing from the team. In the playoffs the team went 19 games without a loss, capturing the New Brunswick Major U18 Championship, the Atlantic Major U18 Championship, and finally the TELUS Cup. The team showed exceptional dedication throughout the season, particularly when pandemic protocols meant almost two months of practising off and on ice alone. The team's success served as a rallying point for the community and their dramatic overtime win in the final at the TELUS Cup capped a dream season.
The team included: Conrad Allen, Sam Bastille (assistant coach), Jean-Philip Boudreau, Philippe Collette, Matt Cooling (assistant coach), Brandon Cormier, Cooper Cormier, Jarrett Crossman (assistant coach), John DeCourcey (coach), Brett Doyle (manager), Xavier Farrah, Joseph Finnigan, Spencer Gill, Thomas Hendrickson, Dave Kennedy (goalie coach), Jonah Leard, Samuel LeBlanc, Preston Lounsbury, Stephen Macpherson (assistant coach), Jack Martin, Marco Martin, Noah Matulu, Brandon Mullins (assistant coach), Luke Patterson, Carole Poirier (therapist), Jérémie Richard, Austin Sanchez, Jessica Sears (trainer), Zachary Wheeler, and Cam White .