Great public urban spaces build community; these places fit into the urban fabric, contribute to the neighbourhood's beautification, provide beneficial green space, create a destination, and enhance the vitality of downtown public life. While visiting the city's parks and trails, don't forget to #ShareTheTrail!
Parks and Leisure
506.853.3333
Open dawn to dusk.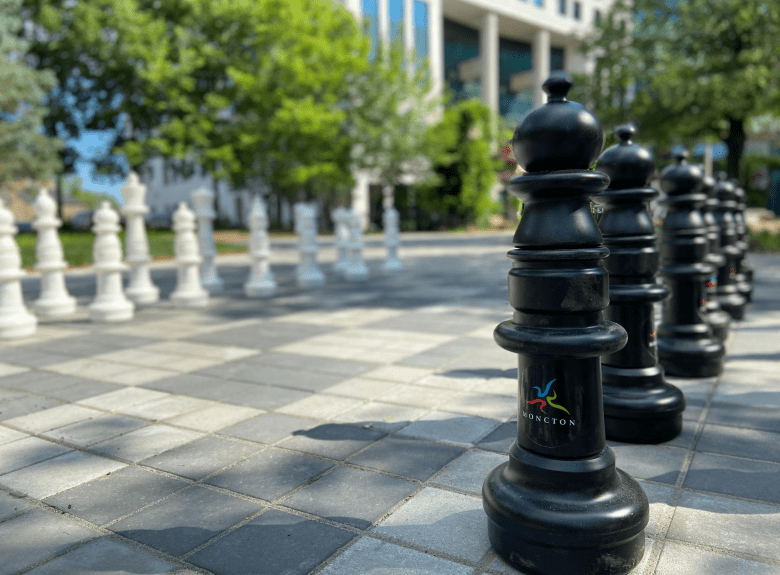 Gérald Leblanc Park
In 2016, two Université de Moncton professors (Benoît Doyon-Gosselin and Raoul Boudreau) proposed that a prominent space in downtown be name to honour Gérald Leblanc's literary legacy. The green space at City Hall was deemed the ideal location (with the family's blessing); in the 2019 budget, City Council approved Capital Works funding to move forward with renovating the space.
The park officially opened in 2020. The park now provides an accessible green space in Moncton's downtown, intended to be an area for community gatherings while paying tribute to Acadian poet Gérald Leblanc. 
Acadian poet Gérald Leblanc was born in Bouctouche, New Brunswick, on September 25, 1945, and died on May 30, 2005, in Moncton, where he had lived and written since 1971. A prolific poet, novelist, anthologist, Gérald Leblanc was also a writer for theatre and radio, a critic, and a translator. He was also a lyricist, including for the folk-rock group 1755 and for singer Marie-Jo Thério. An animator of the Acadian cultural scene and a leading figure in modern, urban and oppositionist Acadian culture, Gérald Leblanc was involved in the establishment of the Association des écrivains acadiens, of the magazine Éloizes and, in 1980, of Éditions Perce-Neige, mandated to promote the current voices of Acadian literature. He was the literary editor of Éditions Perce-Neige from 1991 to March 2005.
From 1981, Gérald Leblanc published more than a dozen collections of poetry, including Comme un otage au quotidien (1981), Géographie de la nuit rouge (1984), Précis d'intensité (1985), Lieux transitoires (1986), L'Extrême frontière (1988), Les Matins habitables (1991), De la rue, la mémoire la musique (1993), Complaintes du continent (1993), Éloge du chiac (1995), Méditations sur le désir (in collaboration with Guy Duguay) (1996), Je n'en connais pas la fin (1999), Le plus clair du temps (2001), and Géomancie (re-editions of the first three titles, 2003). His first novel, Moncton mantra (1997), was published as an English translation by Guernica in 2001. In 1988, with Claude Beausoleil, he published the anthology La Poésie acadienne, 1948-1988.
His books have earned him several awards, including: the Prix Terrasses Saint-Sulpice from Estuaire magazine (1993) for Complaintes du continent; the Pascal Poirier Literary Award for Excellence in French-language literary arts from the New Brunswick Arts Board (1993) for his body of work; and the City of Moncton Literary Award for L'Extrême frontière (1989).
Herménégilde Chiasson said that he "connected Acadia to America and brought modernity to our writing, which had been so brutally taken hostage by folklore. He also called Gérald Leblanc "the poet of everyday life, love and other fantasies that do some good and leave the body swooning". Serge Patrice Thibodeau spoke of "[his] presence in daily life [that] reaches existential ecstasy".
Gérald Leblanc contributed to many periodicals in Canada and abroad and was invited to read his work or give lectures on Acadian literature in many cities throughout Canada and the United States, in France (Paris, La Rochelle, Caen, Grenoble, Lyon, Poitiers, Lille), in Belgium (Brussels, Namur, Liège), in the Republic of Congo (Kinshasa), in Mexico (Mexico City), in the Czech Republic (Prague), in Slovakia (Bratislava), and in Switzerland (Delémont).