Watermain Flushing Program
We have started our annual watermain flushing program. Flushing will take place Monday to Friday from 8 am to 8 pm in different areas of the city each week. The City's annual watermain flushing program starts in April and is expected to be completed in late July.
Each Friday, the maps below will be updated to indicate where crews will be undertaking watermain flushing. Should your area be highlighted below, you may notice a slight discolouration and reduction in water pressure while crews are flushing in your immediate area (Monday to Friday, 8 a.m. to 8 p.m.). Your water service should not be interrupted.  If you have no water pressure, please contact Public Works Dispatch at 506-853-3333 as soon as possible.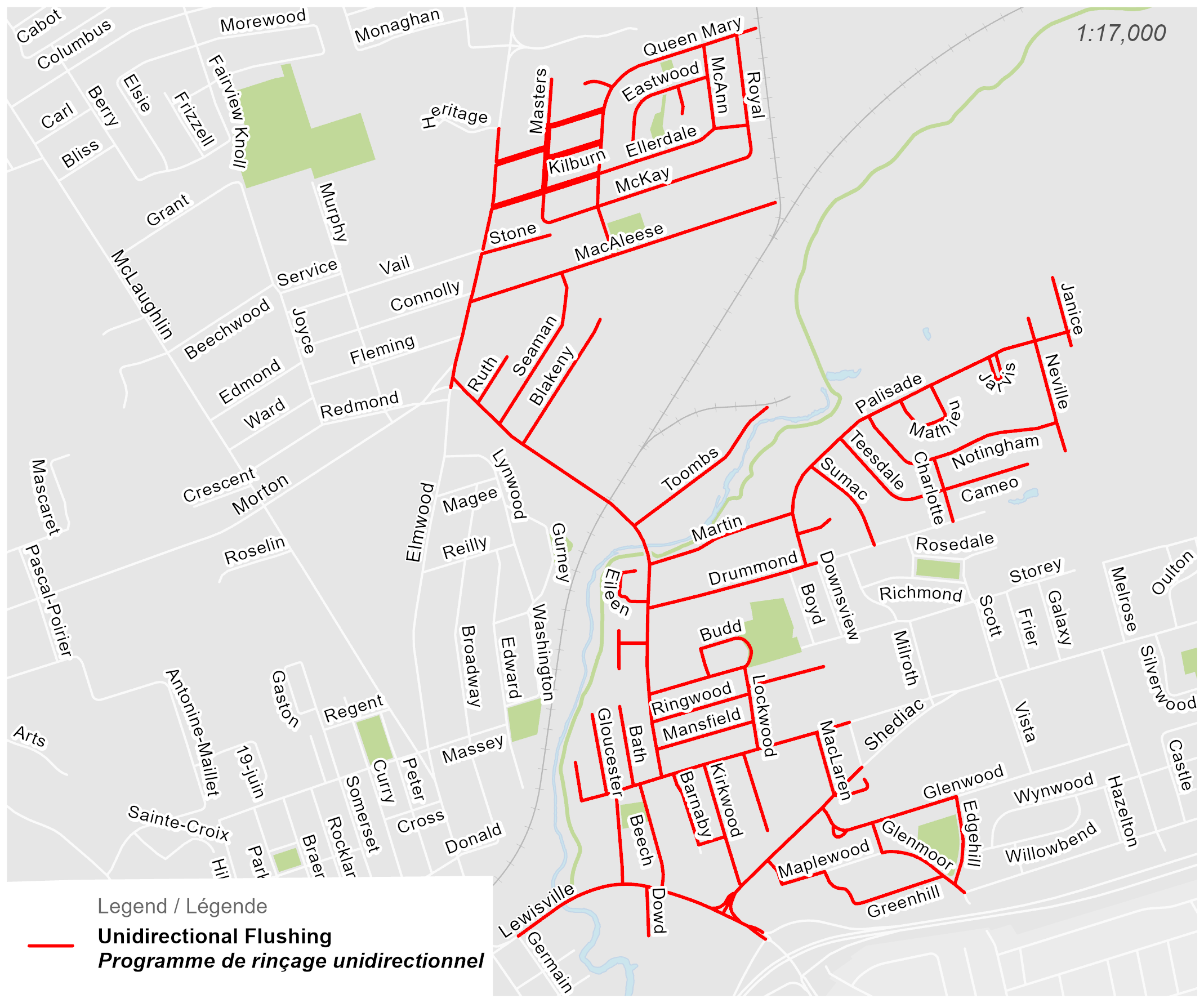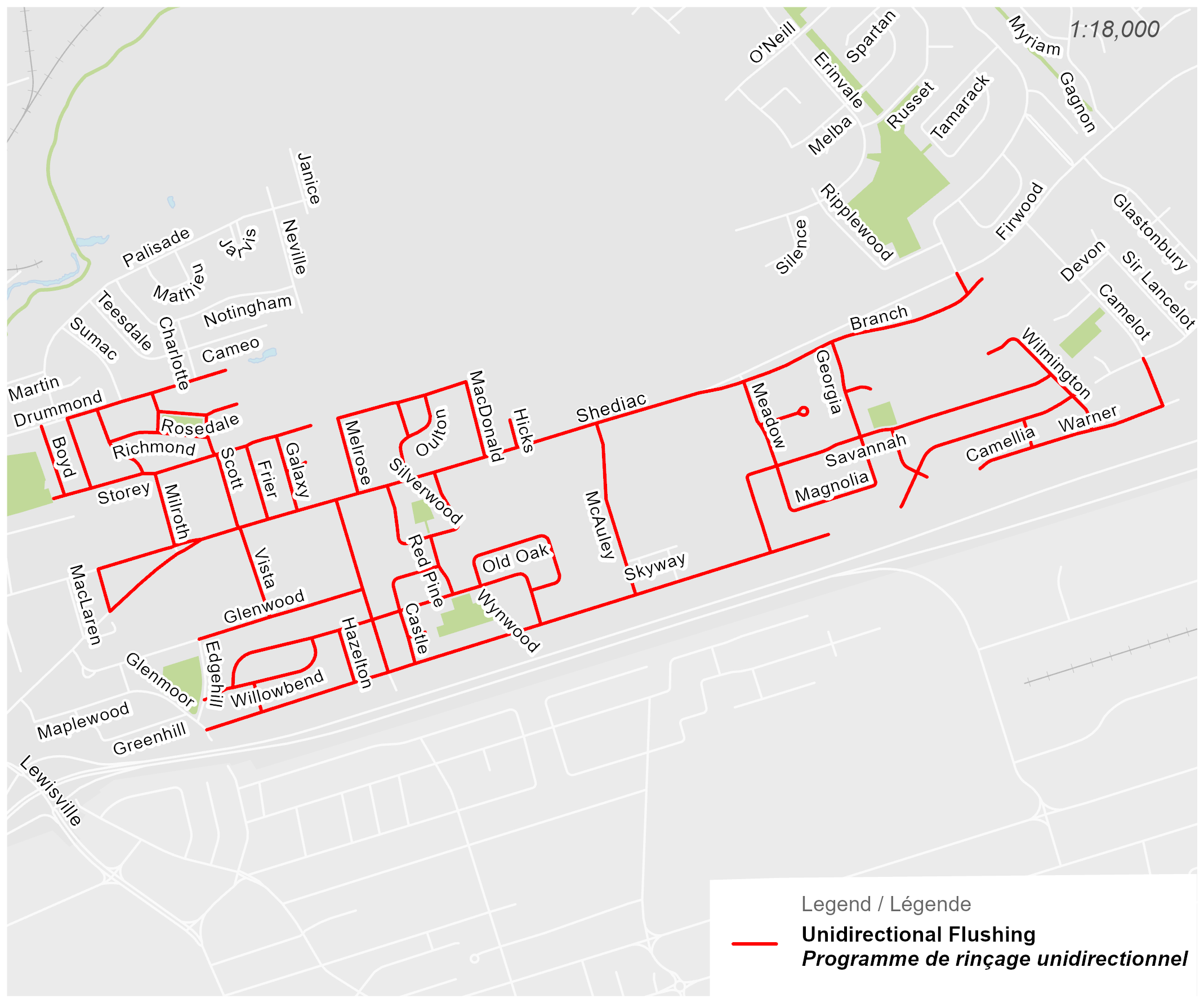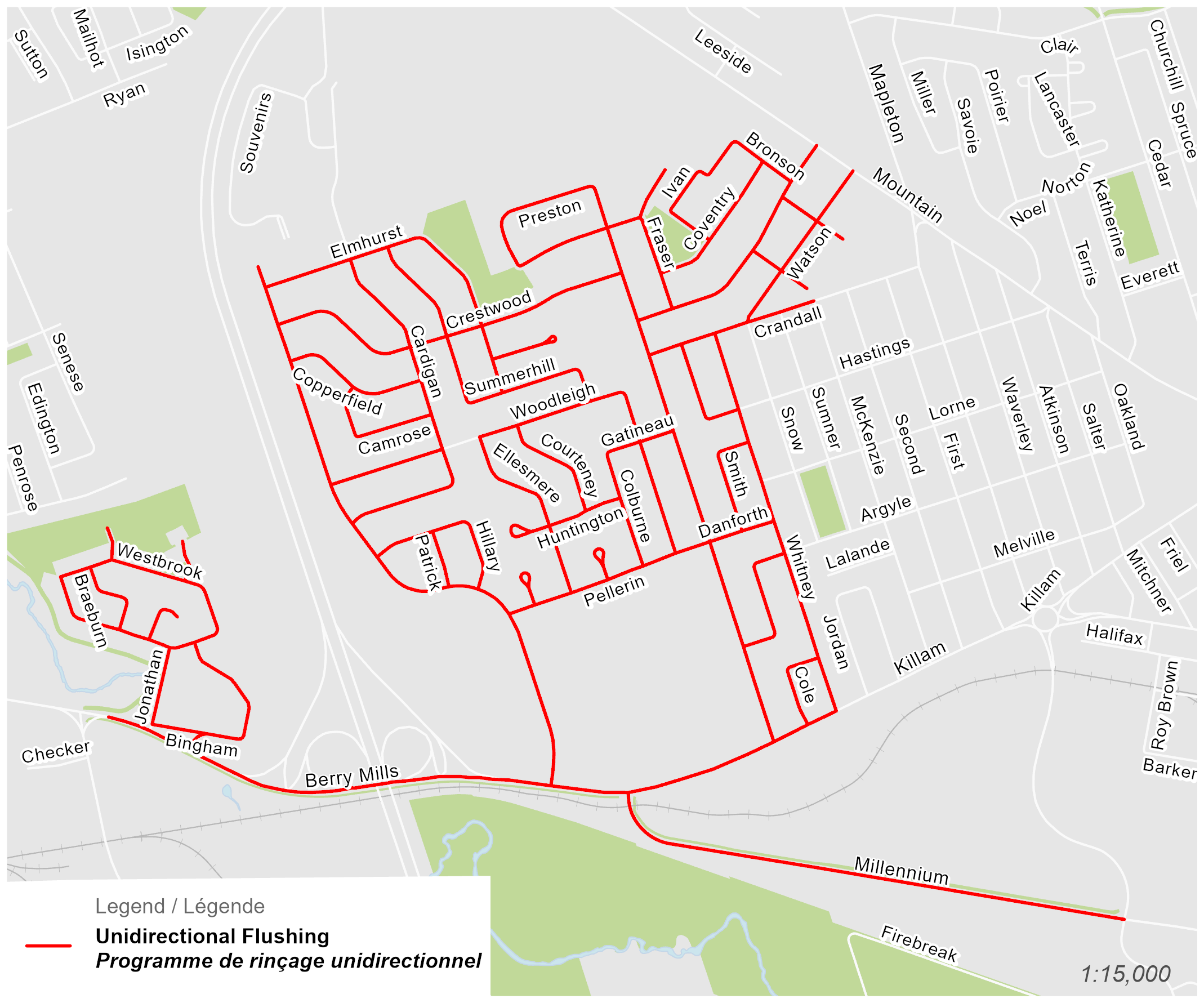 Flushing is generally conducted Monday to Friday between 8 a.m. and  8 p.m. While the hydrants are being flushed, customers in the immediate area of the flushing may experience discoloured water or a small drop in water pressure but water service should not be interrupted. We recommend avoiding doing loads of white laundry on these days between 8 a.m. and 8 p.m. We recommend checking around your neighbourhood for water in the roadway to see if crews are in your immediate area. Out of an abundance of caution, we recommend waiting until the following day to do laundry to avoid any discolouration. In the event that you have no water pressure, please notify Public Works 24/7 dispatch line at 506-853-3333 as soon as possible.
Why do we flush pipes and Fire Hydrants?
Flushing of pipes and fire hydrants is required to maintain water quality. The scouring effect of high velocity water helps to clean the interior of the pipes, flushing the accumulated sediments out of the system, removing stale water, and restoring chlorine residual. The City has an annual flushing program, which is carried out in the spring when there is extra water available.
Since water mains are sized to allow adequate and safe flows for fire protection, water typically is moving through the underground pipes at less than 1 km/hr. This slow movement allows mineral deposits to accumulate in pipes over time. The build-up can restrict water flow in the pipes and contributes to corrosion and water colour problems. Periodic flushing removes the mineral deposits and is critical to maintaining water quality and the water system.
Flushing Progress & Updates
The City will have three crews in three different locations each week throughout the City. Each week, the map will be updated to advise residents if crews will be in their area the following week. Highlighted areas are scheduled to be flushed. Updates will be made on this webpage as well as via the City of Moncton's social media channels.
What if my water is discoloured?
Should black or brown coloured water appear, do not be alarmed. It is recommended you do not use the water or do laundry.  Run your faucets for a few minutes to make sure the water is clear and then resume normal water use. If water does not clear within a few hours or you have lost all water pressure, please notify our 24/7h Public Works Dispatch Line at 506-853-3333.